Targ Drzewny 12/14, 80-886 Gdańsk
+48 58 354 54 54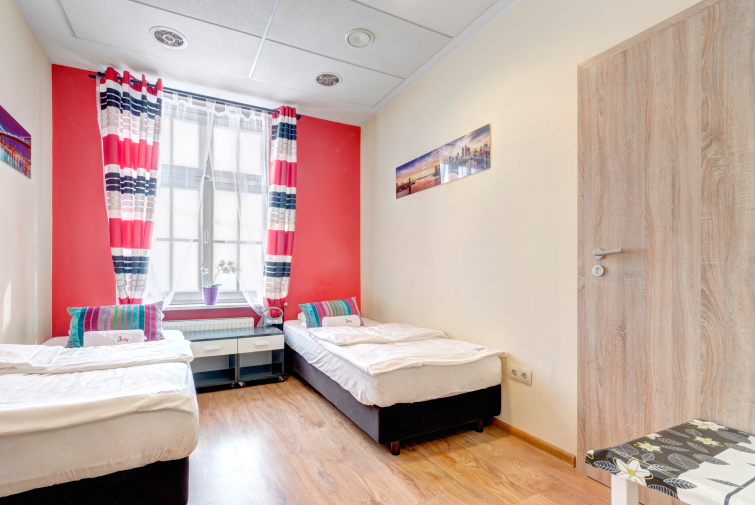 3CITY HOSTEL offers 220 bed places in one, two, four, eight and ten-bed rooms, sharing common bathrooms. For couples and families with children we propose deluxe rooms: a two-bed room "HEVELIUS" and a four-bed room "POSEJDON" with a separate bathroom and TV set. We have also two rooms for special occasions, "KAWALERSKI" (stag night room) and "URODZINOWY" (birthday room), that have a separate bathroom, shower and toilet and are big enough to host 20 people altogether.
Our reception is available around the clock, offering cheap accommodations and professional help in terms of tourist information. Check-in time is 3:00 p.m. and check-out time is 12:00 p.m. of the following day.
3CITY HOSTEL offers Wi-Fi within the entire facility. Each floor has a desktop computer. We also have a lounge with satellite TV and fully equipped kitchen. Hostel guests can use a billiard table and borrow towels at an extra charge, and they have at their disposal a dryer, iron and ironing board. It is possible to pay with a credit card, too.
3CITY HOSTEL has doors with electronic locks, metal lockers in each room and 24 hours camera surveillance. Each guest receives a card and key that allows them to move efficiently around the facility and to keep their personal belonging safe.
With our guests' comfort in mind we have opened a new lounge with two TV sets and brand new couches for people wanting to watch news, sport, music, cultural or scientific programmes.
Yet this is by no means all we have to offer. In our offer there are also:
– catering for individuals or groups,
– a country-wide air transport,
– airplane flight for up to 3 people on the premises of Tricity,
– additional trips,
– transportation to and from the airport,
– yacht voyages (including catamarans), excursions by motorboats and parties on board,
– fishing in the Baltic sea on a cutter or fishing boat.