Kapliczna 30, 80-341 Gdańsk
+48 58 511 30 00
+48 58 511 32 00
Book your stay in a quiet part of Gdańsk! Just 3 minutes is enough to get to the beach from the green surroundings of Mercure Gdańsk Posejdon and to feel the sand under your feet. By the road leading through Jelitkowski Park, you can reach the Sopot pier about 3 km away.
Facilities for the disabled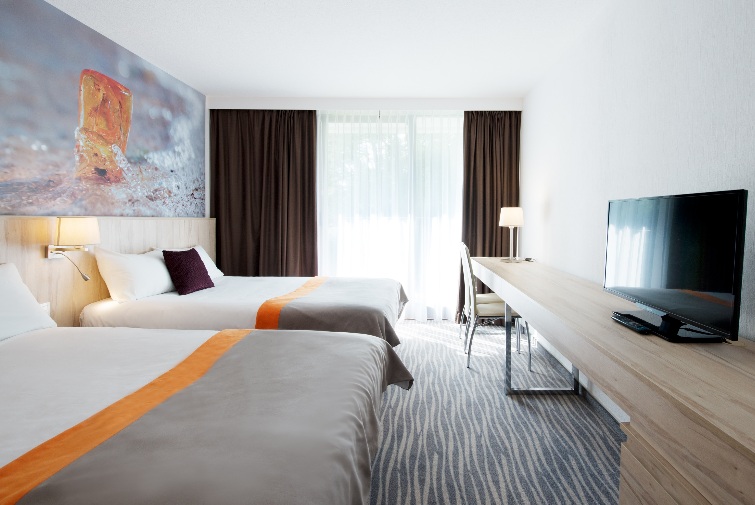 On the beach there is also a seafront promenade - connecting Gdansk, Sopot and Gdynia picturesque trail - ideal for walkers, runners, cyclists and rollerskaters. It is 1.5 km from the concert and events of Ergo Arena. The center of Gdańsk with its monuments, museums and attractions is 10 km away.

The hotel garden is a great place to enjoy the sun and fresh air while having a meal or a drink at the table. There is also a place for active people: an outdoor gym and jogging track. Children can play in the new playground on the inner part of the Mercure Gdansk Posejdon.
After an active day, parents can relax in the sauna while having a massage or beauty treatment in our SPA center, while children use the play corner. For guests of all ages, there is a swimming pool and fitness center available.
In the summertime, on selected days, we conduct special activities for children prepared by an experienced animator, who can take kids to the world of fascinating fun and interesting adventures.
Winestone restaurant will satisfy the culinary needs of serving a variety of European cuisine served in a unique way - on black stone plates with a wide choice of wines from all over the world - also from Poland. You can also buy them in our wine shop as a souvenir.
Wi-Fi is free of charge and every room has also cable TV. Rooms are equipped with enlarged beds to ensure the comfort of our families. In addition, we provide pots, steps, baby baths and plastic dishes to take care of all the babies' needs.
Gdańsk Lech Walesa airport is 15.4 km away, Gdansk Oliwa Railway Station is 3 km away and the city center and Gdańsk Główny Railway Station are 10 km from Mercure Gdańsk Posejdon. At the hotel, there is a fenced car park.