Chlebnicka 19/20, 80-888 Gdańsk
+48 537 168 775
Gdańsk By Bike - 3h/100 PLN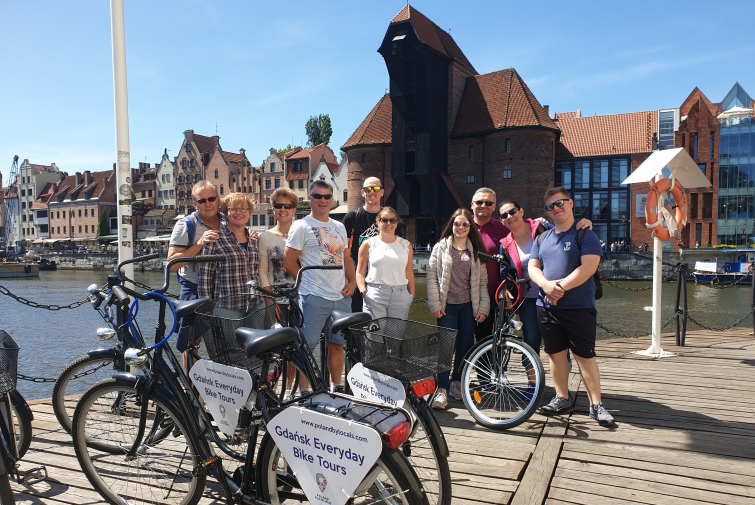 You want to be able to cover all the highlights of the city and feel like a local too? Then a guided gdańsk bike tour is perfect for you!
|
Gdańsk is one of the most bike-friendly cities in Poland, and cycling become a part of a local culture. If you want to really understand the city like a local, you have to do it from the saddle of a bike! Bike tours are one of the best ways to explore Gdańsk. Our tour will provide you with an interesting history of the city, and it is a great chance to make some new friends. Great exercise and the perfect way to spend a glorious summer day in the city, these tours are a must for those who want to get to know the city on more intimate terms.

We will discover the Old Town for you, tell you about its historical monuments and delve into the regenerated Low Town. There, amidst the greenery, canals and the beautiful architecture, we will tell you about the extraordinary mysteries of this part of town. We will also ride our bikes to the Gdańsk Shipyard where you will hear about the living proud history of Solidarity and the struggle for a free Poland amidst the industrial space with its distinctive cranes. The route is full of stops at our favorite local sites.
Tour will be held from July to the end of October each: Thursday, Friday, Saturday and Sunday (depending on the market situation, there is a chance that we will come back with the version of daily trips)
Start: 10:00 a.m
Duration: 3h
Price: 100 PLN
Reservation: https://polandbylocals.com/tour/bike-daily/

Poland By Locals
ul. Chlebnicka 19/20; 80-830 Gdańsk
tel: 0048 537168775
e-mail: contact@polandbylocals.com