Stagiewna 26, 80-750 Gdańsk
58 563 50 00
Holidays in Puro / 2 nights Bed&Breakfast
Price starts from 600 PLN for a duble room (2 nights)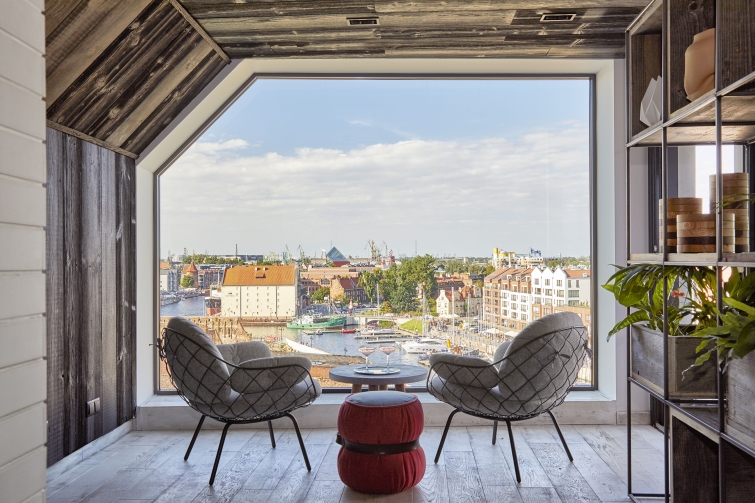 PURO Hotel Gdańsk is en exceptional design and experiences to remember.

Hotel PURO is the ideal destination for those in search of cultural and artistic
experiences. At PURO we work to popularize design and art, telling stories about the
things that surround us. We are in the heart of Gdańsk – on Granary Island, just past
the Green Gate, the calling card of the Old Town. Our interiors, designed by
London's DeSallesFlint studio, allude to the history of the island and the granaries
once standing nearby.
At PURO we actively take part in the life of Gdańsk, and we know all the right
addresses. One of these – the popular INK Above cocktail bar with a view of the
marina – is right here, at PURO. Ever heard of the Dancing Anchor restaurant,
described by such magazines as Elle and Vogue, recommended by some of the most
popular travel and culinary blogs in Poland? Just check out the ground floor. It's not
only breakfast you'll find there. And heading down to the level below, drop by the
PRISMA spa, where we work with natural, top-quality Polish cosmetics by Alba1913.
That's not all – there's a sauna, bicycles and gym to boot!
Hunting for a bargain?

HOLIDAYS IN PURO
2 nights Bed&Breakfast
Price starts from 600 PLN for a duble room (2 nights)
Offer includes
2 nights in SUPERIOR Standard room
Amazing breakfast in Dancing Anchor restuarant
15% discount in Dancing Anchor restuarant
Sauna and fitness room free of charge
Free of charge coffee and tea 24/h w lobby
Bike renting free of charge
High speed Wi-Fi
Reservations available by email gdansk@purohotel.pl –with HOLIDAYS IN PURO name of the offer
Cancelation: free of charge until 6pm - day before arrival
Contact
Puro Hotel Gdańsk Stare Miasto
Stagiewna 26, 80-750 Gdańsk
Tel. 58 563 50 00
Mail: gdansk@purohotel.pl