Rycerska 11-12 , 80-882 Gdańsk
+48 58 772 73 00
+48 58 772 73 01
Brick walls of the boutique Grand Cru hotel in Gdańsk, located in the very centre of the Old Town, absorb the atmosphere of this unique place. Luxury, comfort and elaborate design make this facility unique. You won't find another four-star hotel like this in Gdańsk.
Facilities for the disabled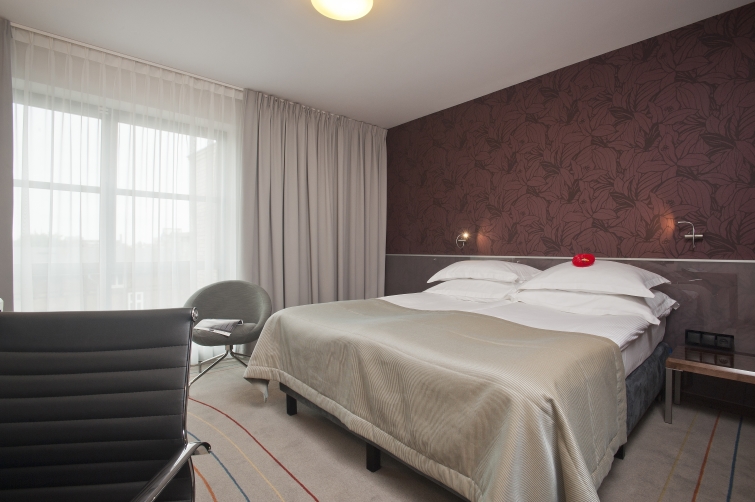 Exquisite dishes and vines of the highest quality offered in Grand Cru underground restaurant, impeccable service, delicious breakfasts and additional conveniences will satisfy even the most demanding of guests.
The hotel offers:
• 50 rooms (single and double ones)
• two conference halls in atmospheric underground that can be combined into one
• Grand Cru Restaurant and winery
• sauna and fitness
• car park (the amount of parking spaces is limited; public car park requires additional fees)
Grand Cru Hotel gained, among others, Best Hotel Award 2015 in the Best 4/5-star Hotel in Tricity category
Grand Cru Hotel has 50 air-conditioned rooms in which modern elements are perfectly combined with medieval, rough brick elements. Comfortable stay is guaranteed by comprehensive equipment for hotel rooms, such as: work desk with chair, satellite TV, telephone, safe, coffee/tea brewing set, minibar, ironing set, dryer and Wi-Fi.
Check-in begins at 2:00 p.m. on arrival and check-out is at 12:00 p.m. the next day.
Breakfasts are served in the hotel restaurant from 7:00 to 11:00 a.m.
Restaurant, bar and winery are open everyday from 13:00 to 23:00 p.m.
Rooms and public places are all non-smoking areas.
Our guests have at their disposal free wireless Internet access, various fitness facilities and sauna.
Grand Cru Hotel has two functional, air-conditioned and fully equipped conference halls, "Shiraz" and "Merlot", which are perfect for presentations, conferences, training courses or lectures and can seat up to 100 people. The conference offer includes a wide range of options such as coffee breaks, dinners and suppers. It is possible to organise a special event both in the conference halls and in the adjacent restaurant.