Stara Wędzarnia (Old Smokehouse)
, Nadwiślańska 79 Gdańsk
+48 783 341 888
It is located in a renovated building of a historical fish smokehouse on the Sobieszewo Island on the Vistula bank. Far from the city rush, surrounded by the beautiful nature, it offers calm rest during the holiday or a business trip to Gdansk.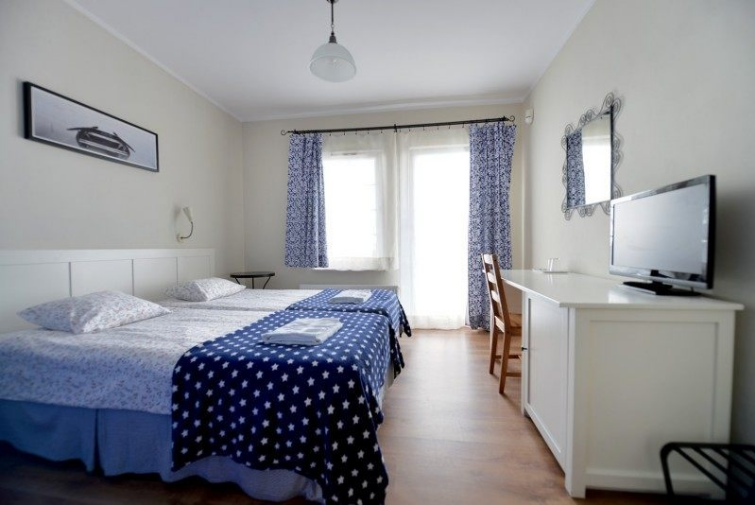 The Stara Wędzarnia is an intimate accommodation facility established in a historical building of the former fish smokehouse built in the 1930ies. History is combined with modernity there. Historical interiors of the former smokehouse were adapted to create a restaurant and a training room while new comfortable rooms were created in the accommodation part. All interiors refer to the Scandinavian style with its tasteful simplicity and minimalism. Original brick chimneys rise above the building. You can reach the city centre and the charming Old Town of Gdansk in 15 minutes by car and a city bus reaches the Stara Wędzarnia in 35 minutes while a walk to the beach will only take 20 minutes!

The building has 17 rooms (double and triple rooms, double family apartments and apartments for four). Cozy and functional rooms located on two floors of the building have bathrooms with a shower and a toilet, comfortable beds and a wardrobe, satellite TV, a desk and free Wi-Fi. You can use the public coffee corner round the clock to prepare hot drinks. If necessary, the hotel can offer a room of an appropriate size, an extra bed or a cot for a child. A 50 m2 conference room with a projection screen, a flipchart and Wi-Fi is located in the hotel. The room can be illuminated with sunlight (the view of the river from the windows), artificial lighting or darkened. Next to the training room, there is a banquet hall occupying ca. 100m2. Both rooms can be combined to create a single large room perfect for a business banquet or another event.

Guests can also use a car park, Internet access and a bar/restaurant.